When you enable a Confluence space for translation, you will add translation capabilities to each page in the space.
To enable a space for translation,
1) Log into Confluence as an administrator.
2) Open the space.
3) Go to Space Tools and select Enterprise Translations.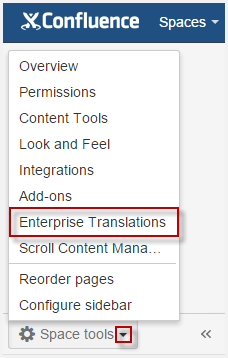 4) On the left, click Enable space for translation.

5) After clicking the link, you will see the Translations Dashboard.
6) The Translations Dashboard lets you monitor and manage translation settings for all of the pages in your space.

Below the Translation Dashboard are three other links that help you control your translation settings.
Choose a link below to control your settings for the open space.