Configure default settings for your community with the Customization menu.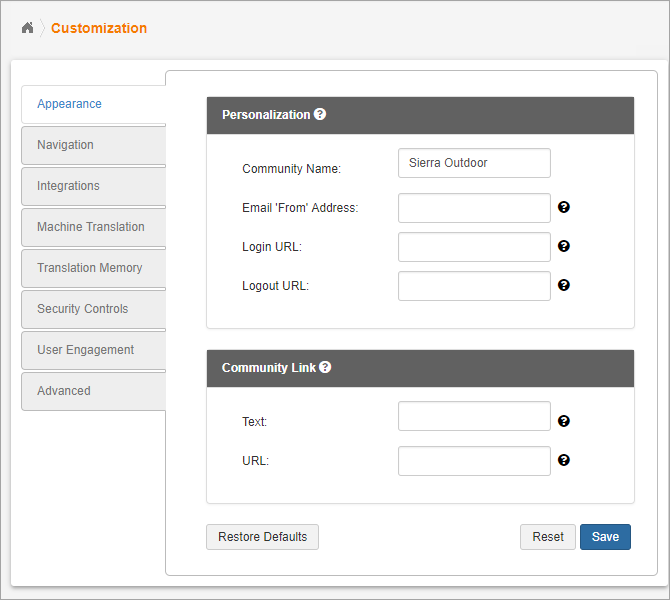 The Customization menu is available on the Community tab and allows you to set up key configurations for your community - including task prioritization rules, default machine translation engines, and more.
Only an administrator can access the Customization screen.

To access your community's Customization options:
Sign in as an administrator.


Choose Community from the side bar.


Select Customization.


On the left of the page, a menu of Customization options display.


Click a Customization option to customize your community settings.
Customization Options
Choose from seven Customization options.
Click Appearance to personalize your Lingotek site.
Add your company logo to the Lingotek interface (and optionally configure all system emails to be sent from your company's email address).
Click Navigation to manage settings in the linguist Workbench.
Click Integrations to integrate Lingotek with your website's content management system.
Click Machine Translation to select which machine translation engine(s) should be available to your community.
Click Translation Memory to choose how TM matches (Exact, High, and Low Fuzzy) will be labeled.
Under Security Controls, enable or disable default Lingotek features (e.g. system emails, MT and TM resources).
Enable features that encourage volunteer linguists (competitive scoreboards, peer invitations, etc.) under User Engagement.
The Advanced tab deals with user profiles, tasks, teams and user management.
Although all Customization tasks are useful, only three will be covered in this Getting Started Guide: