After configuring a workflow's Project tab, click to switch to and configure the Document tab.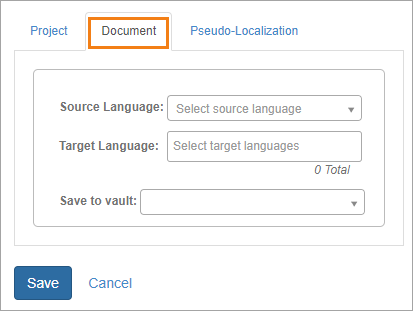 From the Document tab, select the default source and target languages that will be used for document translation when the workflow template is used on a project.
The Save to vault is where all of the TM generated from the translation process will be saved.
Important
 Be sure to choose a Save to vault. If a Save to vault is not selected, you will be required to select a Save to vault on each document uploaded to the project.
Important
To make new TM available to linguists as soon as it is created, you will want to list the Save to vault you have selected on the Document tab as a resource on the Project tab.

To add a Save to vault as a project resource,
Open the project (Go to 

Projects

 and open the project)

Click on the 

Resources

 tab

Click inside the 

TM Vaults

 field

Scroll to or type in the name of the 

Save to vault

 
Once the Save to vault is added as a language resource, new translation memory will be made available to linguists in the Workbench immediately after it is created.
If you have not created a Save to vault, you can create one from the Projects menu at the top of the page.
Go to Projects, select TM Vaults, click New TM Vault, type a name for the vault and click Save. This vault will now be available in the Save to vault drop down.

@media all { #children-section { display:none !important; } #comments-section { display:none !important; } #likes-and-labels-container { display:none !important; } .page-metadata {display:none;} }