Use keyboard shortcuts to run every major action within the In-Context Workbench:
Apply format tags
Open Find / Replace
Copy / Paste
Search for glossary terms
Save segments
...and more!
For convenience, some keyboard shortcuts display next to key menu items.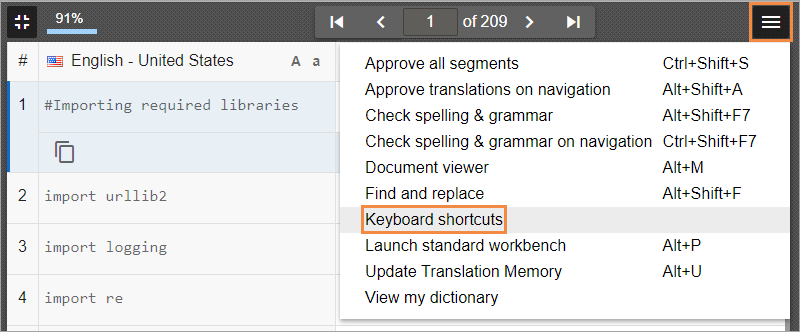 To view the full list of shortcuts, go to the Shortcuts list. (Click here for a list of shortcuts).
Open the In-Context Workbench.


Click the menu icon.


Select Keyboard Shortcuts. On this page, view the current shortcuts (or add new ones).
Edit Keyboard Shortcuts
From the open Shortcuts page, you can view the existing shortcuts - or change them so they reflect the shortcuts you are accustomed to using.


Example
If you are accustomed to using Ctrl+F7 to run Spell Check, add it via the Shortcut Configuration screen.

Modify Shortcuts
To modify an existing shortcut,
Open the Lingotek In-Context Workbench.


Go to the menu and select Keyboard Shortcuts.




Click inside the box next to a shortcut.





Using the keyboard, enter the keystrokes for the new shortcut.



For Example: To change a shortcut to "Ctrl+F7," click in the box next to the shortcut title. Then, using the keyboard, hold down Ctrl and press F7. (Tip: Do not "type" the letters "Ctrl+F7"). The new shortcut will be displayed in the box.

Scroll down and Save your work.


Once the new shortcut is saved, it will be active in the Workbench.