To analyze a document,
Open a project from the Dashboard or go to the Projects menu at the top of the page, select Projects, and click a project to open it.
Then click to open a document within the project.
From the open document, click to select the TM Statistics tab (above the Targets list).




Select Analyze Document.
Name the Report and check to select Search TM Vaults.
You will be able to choose to search TM Vaults as specified in the Project resources or select which TM vaults should be analyzed for leverage. Drag any TM vault(s) to include in your analysis to the right.

Tip: Drag and drop to prioritize the TM Vaults in the list.
Tip: Locate specific vaults with the search box.




Click Analyze to run the report.

The completed report will display on the TM Statistics tab.

Viewing Reports
Use the drop down menus to view past analyses or analyses for a specific target language.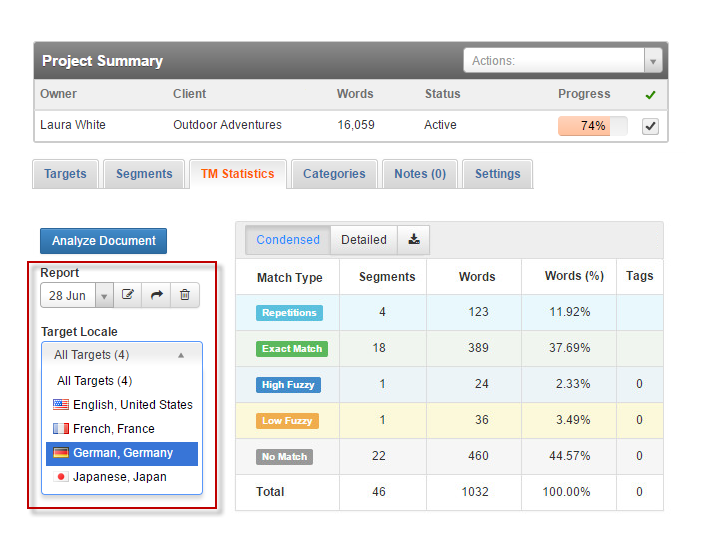 Report menu - View past versions of a TM analysis.
Target Locale menu - View analysis for an individual target within the document.
Tip: Appended Locales. The target language automatically appends to the leverage report name when TM is leveraged via a workflow.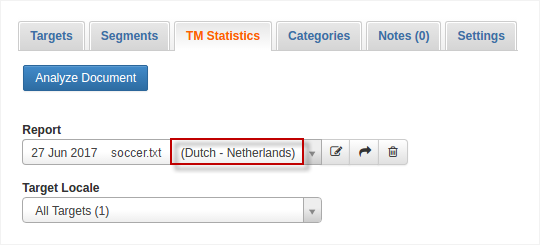 Related topics