From an open document, click the information icon to display its metadata.

Document metadata can include valuable information about the document, including the Author Name, Business Unit, Contact Email, etc.

To display additional metadata fields, click the gear icon.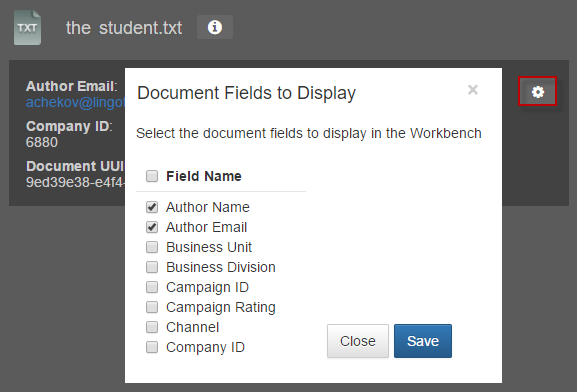 Tip: If a field does not have a value, it will not be displayed.
Available Fields
Author Name, Author Email
Business Unit, Business Division
Campaign ID, Campaign Rating, Category, Channel, Company ID
Contact Name, Contact Email
Content Description, Content Type
Document UUID, Domain, Document Due (Current), Document Due (Original), DocumentDue Reason
Ext. Application ID, Ext. Document ID, Ext. Style ID
Priority, Purchase Order, Reference URL, Region
Require Review, Source URL