The task list is the linguist's tool for organizing and accessing assignments.


When a linguist logs into the Translation Management System, all assigned tasks display in their task list.
From the task list,
Configure Task Columns
Users are able to show and hide columns with document information, as well as choose how these columns are sorted.
After clicking on any column heading, a pop-up window will appear that displays available options.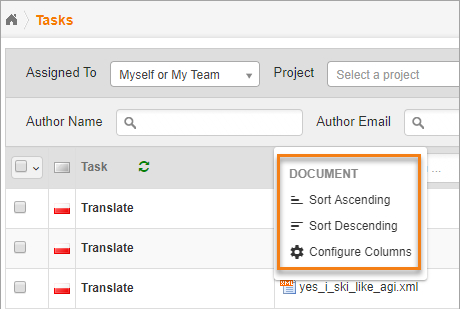 If the column has information that can be sorted, options for Sort Ascending and Sort Descending will appear.  
On all columns, a Configure Columns option will display. 

Clicking Configure Columns

 

opens a pop-up window listing all columns that can be hidden or displayed.
Please Note: These settings are for your account only. This will not affect any other user's display.

After selecting desired columns to display, clicking Update saves your settings, Cancel to rejects changes, and Restore restores default settings.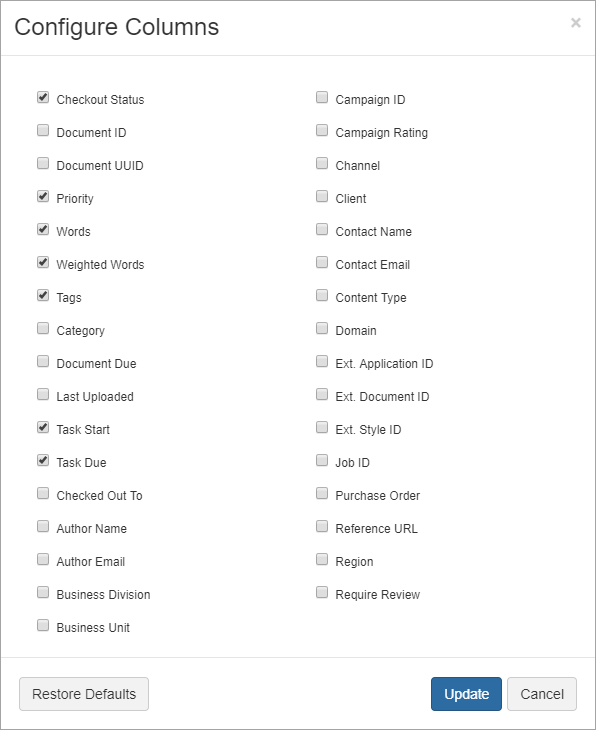 The following columns cannot be hidden:
Checkbox
Target (Flag)
Task
Document
Status
Progress
Actions
Completed/Checkmark
Preview a Task
Click a document's title to preview it. 

Previewing a task helps determine if it fits your skill set and workload. 
View the Document ID
Click the document icon to view the Document ID and Document UUID. Click on the ID or UUID to copy it to your clipboard. 
You can also configure your columns to see the Document ID and UUID columns.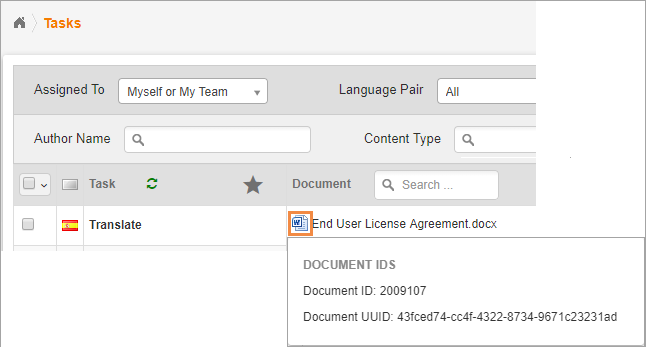 Open a Task
To start working on a task, use the More icon (on the right).

Using the More icon, launch the task in the Workbench, In-Context Workbench, or Doc Viewer. 
Use...
Launch Workbench to translate documents in the classic workbench. Ideal for documents with minimal formatting. 
Launch In-Context Workbench to translate web or other formatted content. Preview translations in their final layout as you translate. Ideal for web content. 
Launch Doc Viewer to quickly scan and spot check many segments at once. Ideal for reviewers. 
Upload Finalized File to upload the final version of the translated file. Ideal for DTP. 
Check In, Check Out
Since tasks can be assigned to individual linguists or to a team, there must be a way to designate which linguist is working on each task.

If you are working as part of a team, be sure to check out a task. this reserves the task to you and ensures that linguists will not be able to work on it.
Check Out. To check out a task, go to a task and click the More icon and select a Check Out option. 

Check In. If you are unable to complete a task (e.g. because of illness), check the task back in, allowing other linguists to work on it. To check a task back in, go to a task and click the More icon. Then select Check In. 

Assigned Tasks
If a task is already assigned to you (and not the team), it is not necessary to check it out.
More Task Options
Other options may be available from the More menu.


Permissions
If your project manager has granted access to the following options, they will appear in your task list.
Tip: If these options are unavailable, please contact your PM.




Description
Action
Submit a completed translation.



Record task completion. When this option is available, manually record how much work has been accomplished. (Designed for Engineering and DTP phases).

View

View the source document. If you are translating web content, sometimes a PM provides a Source URL. Click the Source URL to view the original source document.




View TM statistics. Gauge how much of the document was leveraged from TM.

Download Source As

Original Format
PDF
TMX
XLIFF

Download source file. If your project manager has granted access to download your assigned files, a download option will appear in both the task list and the workbench. 

You will be able to download the Source and Target in several formats. Choose from the Original Format, PDF, TMX, and XLIFF.

Download Target As

Original Format
PDF
TMX
XLIFF

Download target files.