If you wish to override your default translation settings for specific content, be sure to create a Translation Profile.
Publish Translations
Choose how to publish completed translations.
Automatic. If you would like to automatically publish translations as soon as they are complete (rather than manually approving them), you can enable Automatic download.
Manual. Alternatively, manually download content to Lingotek. This setting automatically publishes translation to Confluence as soon as they are approved.
Default Translation Profiles
The Lingotek connector comes with two translation profiles.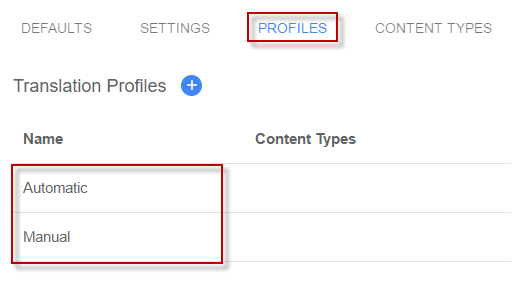 The Automatic profile automatically publishes translated content back to Confluence.
The Manual profile allows you to manually choose when completed translations will be published to Confluence.

Both of these profiles use your default translation settings (i.e. the project, workflow, etc. you set up on the Defaults tab). If you want to mix and match automatic and manual upload and download options, etc., you can create your own translation profile.


Create a Translation Profile
Once a translation profile is created, it can be applied to any type of content (e.g. blog posts, pages, etc.). On a translation profile, choose
Which target languages will be used
Which Lingotek resources to use on the profile
Whether to enable/ disable translation for a specific type of content
Whether translated content will be uploaded/downloaded automatically


To create a translation profile,
From the Confluence admin menu, select Profiles.




Click the Plus sign.
In the new screen, scroll to select your translation preferences.



Once the profile is complete, it can be applied to any type of content.
See below for help.


Click to Save Changes to create the profile. This profile will be available for use on the Content Types tab.
Setting
Details

Download

Once translations are complete, choose how to publish them back to your Confluence site.

Automatic. Choose Automatic to automatically publish completed translations to your app – as soon as the linguist approves the last segment.

Manual. Choose Manual to require an administrator to go in and manually publish completed translations. (This allows for an extra review step, and allows all translations to be published in a single release, if desired).



Lingotek divides your work into translation projects. Projects help you organize and track related documents within the TMS. Choose which Lingotek project will handle the translations originating from this app.

By default, the connector uses the first alphabetically listed project in your list.



Lingotek workflows help you manage the quality of your translation. For example, for a low quality translation, you may wish to include only two steps – machine translate and post edit. For a higher quality translation, the workflow may include more steps (e.g. machine translation, human translation, linguist review, legal review, etc.).


Choose which Lingotek workflow should handle the translations for this app.

By default, the connector uses the first alphabetically listed workflow in your list.




Note: This should be the same workflow that is associated with the Lingotek Project.



Filter Configurations

Choose a Primary and Secondary Filter Configuration.

Tip: Unless you have special filter configuration needs, use the Confluence Default filter.
Target Languages

Choose whether to translate all languages.

Disable a Target. If a target language is not required (e.g. blog posts don't need to be translated into Korean), disable it here.
How do I use Translation Profiles?
Translation profiles help you bundle translation preferences for a specific type of content.

For example, your blog posts may need to be translated into both French and Spanish, but regular pages only need to be translated into Spanish.
How can you use a translation profile to address this situation?
Create a translation profile that lists only Spanish as its target language.
Create another translation profile listing both Spanish and French as target languages.
Apply these profiles to the appropriate type of content on the Content Types tab.
Save your changes.
Now all Blog posts will provide a Spanish translation option, and all pages will have both Spanish and French translation options.
Next: Content Types