The Translation Plugin menu (on the side of the page) has 3 options - Dashboard, Manage, and Settings.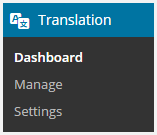 Here, you will be able to monitor your translations and choose your translation preferences.
Under Dashboard, choose the language(s) to translate your website into.
Under Manage, choose whether to translate WordPress "Strings" (WordPress' built-in on-screen text).
Under Settings, configure your preferred translation settings.
Next: Choosing Languages