Create a Lingotek Account
When you open the Translation Plugin for the first time, you will be able to connect it to a Lingotek account.

If you already have a Lingotek account, click Connect Account and enter your login information.
If you do not, you can request an account:


Complete the Account Request form. Type in your email address, create a password, and click Request Account.
Tip: Your email address will be used as your Lingotek username.
1) After creating/connecting the Lingotek account, a confirmation message appears. Click Authorize Application to activate the Plugin.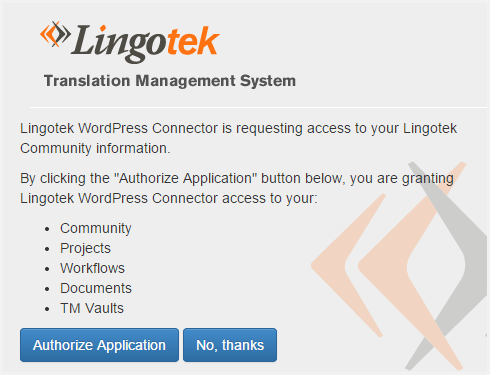 2) On the next screen, you will be able to review the Plugin's tutorial.
3) When you are ready, choose the language(s) you would like to translate your site into.
Next: Translation Options
See below for a video overview of the Lingotek-WordPress Plug-in